Herbal Malady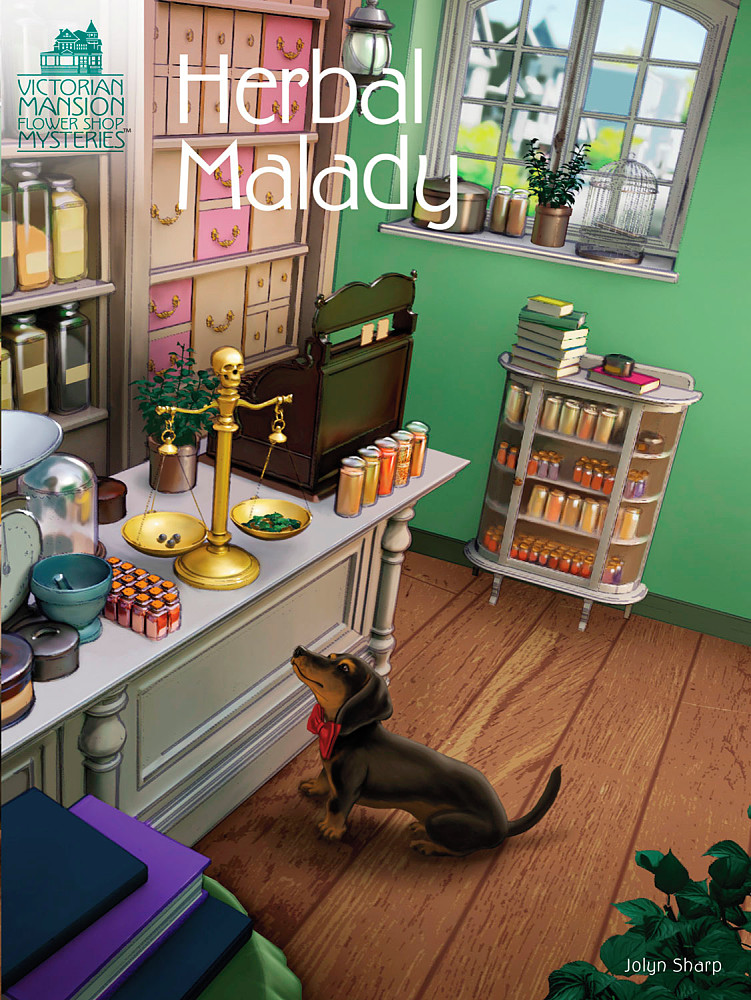 Spring is beginning to bloom on beautiful Orcas Island in Washington, and the green-thumbed gardeners of Turtle Cove flock to The Flower Patch. Shop owner Kaylee Bleu is overwhelmed with the surge in business, but she delights in every minute she spends assisting her customers.


That is until Vivienne Gherson enters the shop seeking Kaylee's professional expertise as a forensic botanist. She asks Kaylee to analyze an herbal supplement her brother-in-law purchased from Tyrone Greene, aka Dr. T. She believes Dr. T. is leading him down the wrong path, and she wants Kaylee to prove the supplement is a fake.


Kaylee hesitates to get involved, but while she mulls over the request, the unspeakable happens. Vivienne is murdered.


When Kaylee analyzes the herbal supplement, she discovers garden variety tea and a rare herb cultivated by Dr. T. Is it really the miracle supplement he advertises? Or is Dr. T. a snake oil salesman, scamming people out of their money? Did Vivienne's concerns about his product have anything to do with her murder?
As Kaylee and her friends in the Petal Pushers garden club investigate, they conclude this is no tempest in a teapot. More irate customers of Dr. T.'s grassroots organization come forward, and the list of murder suspects continues to grow. When it seems as if the stakes couldn't get any higher, someone targets Kaylee.


Will Kaylee and her friends remedy this mystery before someone else is prescribed a permanent cure-all?
The Characters
Kaylee Bleu
At 40, Kaylee's life is about to change in a really big way.

When her job at the university is suddenly eliminated, Kaylee is left feeling lost. Yet it couldn't have happened at a better time.

A fortuitous phone call sets an exciting new course for Kaylee. She packs up her life and moves to take ownership of her grandparents' grand Victorian mansion flower shop and charming Wildflower Cottage, both in Turtle Cove, Wash., on gorgeous Orcas Island.

Of course, Grandpa Ed has been gone for years and while Kaylee feels the pang of missing him, she eagerly accepts her beautiful new surroundings to begin a brand-new chapter in her life.

Then Kaylee discovers that not everything in Turtle Cove is coming up roses. Will the cryptic clues in her grandfather's journal lead her to the truth about what really happened to him years ago -- and straight into the path of a killer?
Mary Bishop
Mary works part-time at The Flower Patch and welcomes Kaylee to Turtle Cove with open arms. As a retired police dispatcher, she has contacts with the local authorities -- connections that come in handy when she's helping Kaylee solve mysteries!
Jessica Roberts
Jessica is the spunky owner of the Death by Chocolate bakery and coffee shop and Kaylee's best friend. She's energetic, funny and can't resist a good mystery. A petite woman with a big smile, she always has a handle on the local scoop, as well as a good conspiracy theory to share.
Bear
When Kaylee adopted Bear from a local shelter, it was love at first sight. Cute, curious and well-mannered, this lovable dachshund is Kaylee's constant companion, escorting her to the flower shop every day. His inquisitive nature might just land him in the middle of a mystery or two.