Woes By Any Other Name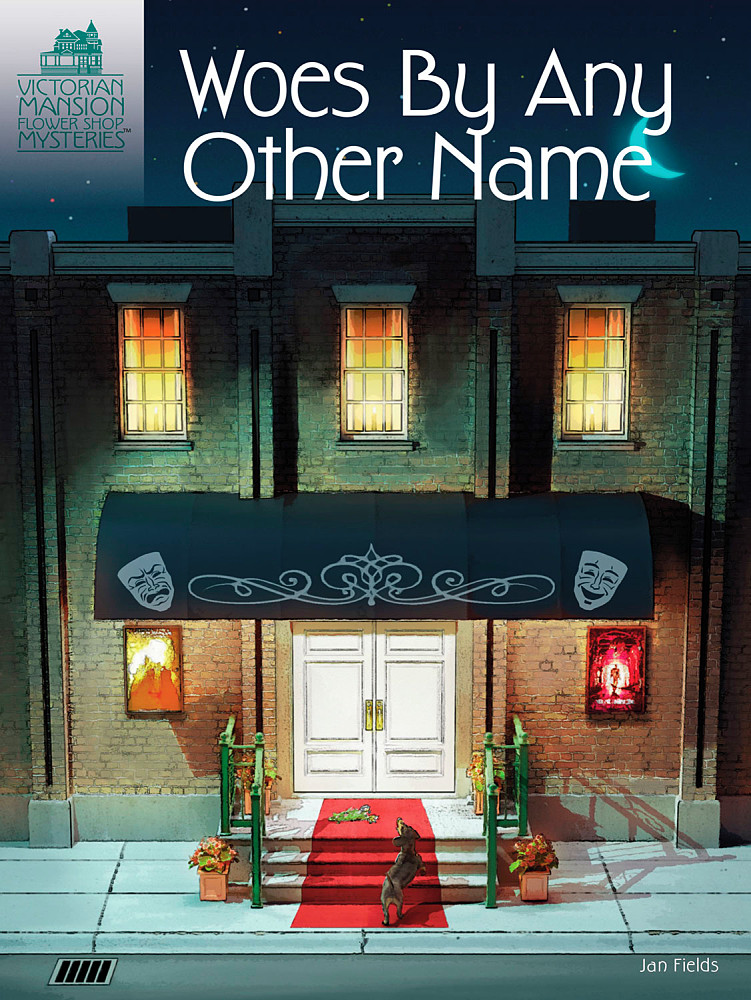 Turtle Cove, Washington, florist Kaylee Bleu is anticipating a low-drama autumn, but her expectations are quickly upstaged by the arrival of an attractive young couple opening a new theater on Orcas Island. Kaylee has never been one for the limelight, but her leading man, adorable dachshund Bear, is offered the opportunity to participate in the playhouse's first production as an understudy for its canine stars, Gilbert and Sullivan.

Although Kaylee would prefer to remain behind the scenes, she agrees to let her little dog join the fun at the theater along with some of her friends and several other Turtle Cove townsfolk. But Kaylee's potential stage fright turns to actual fear when a member of the troupe is injured and Sullivan vanishes. Was the actress attacked, or did she merely suffer from bad timing? And did the canine thespian simply run away; or is there something more nefarious at play?

Despite the unease surrounding the mysterious events, the theater owners decide that the show must go on. As rehearsals continue, Kaylee has a front-row seat to the drama unfolding both on stage and off. Resolved to pull back the curtain on the increasingly strange happenings at the Ropeworks Playhouse, she questions all of the actors about their respective roles; only to find that many of their answers cast doubt on the entire production.

When merely suspicious incidents give way to downright threatening attacks - and worse - Kaylee's determination to thrust the bad guy into the spotlight gets top billing. Can Kaylee uncover the truth before the madman waiting in the wings directs her toward a fatal final act? If she doesn't unmask the villain in time, breaking a leg will be the least of her worries.
The Characters
Kaylee Bleu
At 40, Kaylee's life is about to change in a really big way.

When her job at the university is suddenly eliminated, Kaylee is left feeling lost. Yet it couldn't have happened at a better time.

A fortuitous phone call sets an exciting new course for Kaylee. She packs up her life and moves to take ownership of her grandparents' grand Victorian mansion flower shop and charming Wildflower Cottage, both in Turtle Cove, Wash., on gorgeous Orcas Island.

Of course, Grandpa Ed has been gone for years and while Kaylee feels the pang of missing him, she eagerly accepts her beautiful new surroundings to begin a brand-new chapter in her life.

Then Kaylee discovers that not everything in Turtle Cove is coming up roses. Will the cryptic clues in her grandfather's journal lead her to the truth about what really happened to him years ago -- and straight into the path of a killer?
Mary Bishop
Mary works part-time at The Flower Patch and welcomes Kaylee to Turtle Cove with open arms. As a retired police dispatcher, she has contacts with the local authorities -- connections that come in handy when she's helping Kaylee solve mysteries!
Jessica Roberts
Jessica is the spunky owner of the Death by Chocolate bakery and coffee shop and Kaylee's best friend. She's energetic, funny and can't resist a good mystery. A petite woman with a big smile, she always has a handle on the local scoop, as well as a good conspiracy theory to share.
Bear
When Kaylee adopted Bear from a local shelter, it was love at first sight. Cute, curious and well-mannered, this lovable dachshund is Kaylee's constant companion, escorting her to the flower shop every day. His inquisitive nature might just land him in the middle of a mystery or two.